Rooted in Agriculture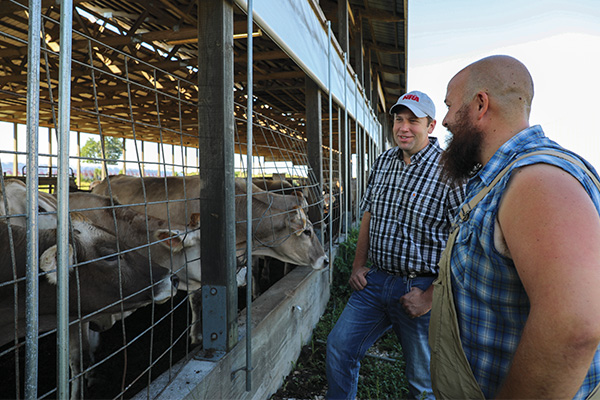 From his fourth-generation Southeastern Missouri farm to directing executive policy from our nation's capital, U.S. Congressman Jason Smith keeps his corduroy jacket close at hand.
"If you come into my office, the first thing you'll see is my FFA jacket framed on the wall," Smith said. "It was given to me the night I was elected into office. My friend who served on my chapter officer team helped do that."
Smith is the U.S. Representative for Missouri's 8th congressional district. His district comprises 30 counties, including around 20,000 square miles of southern and southeastern Missouri.
He also was president of the Salem FFA chapter and served as Area XIII first vice president.
According to Smith, when he got involved in FFA, it altered the course of his life in a multitude of ways.
"When I started FFA as a freshman, I was shy and quiet and couldn't even do all five paragraphs of the creed," Smith said.
That might not be what you'd expect to hear from a politician, but Smith said his determination to stay involved in speaking competitions, contest teams and leadership events is what helped him continue to push himself out of his comfort zone.
"The key to success is not to give up," Smith said. "You're not always going to accomplish everything you set out to do the first time. Try to learn through that and work hard to change the outcome the next time."
Smith said above all, FFA members should remember the three Ds: direction, determination and dedication.
Those three Ds have carried him through many opportunities, including the very experience that inspired him to become involved in politics. For his Supervised Agricultural Experience, Smith began a canine breeding program with four dogs his first year of high school.
"When I was a freshman, the city council summoned me to go before them because of my FFA project," Smith said. "They said I was running a commercial business in a residential area. I had to go before the council a couple of times, and they ultimately said I couldn't have it. We had to move out of town. After that, I paid attention to politics, because I felt like what happened to me was ridiculous and I didn't want it to happen to anyone else."
After moving to a more rural location, he eventually grew his business so much that it helped pay his way through college and gained him the title of the state winner in specialty animal production in Missouri.
Smith attended the University of Missouri-Columbia where he earned degrees in agricultural economics and business administration. After attending law school at Oklahoma City University, Smith returned home to purchase his grandfather's farm.
Today, he fills his weekends doing what he says is the most relaxing thing in the world: farming.
This farm now includes registered Angus and Red Angus cattle, sheep, bison, ducks and a donkey named Hillary.
According to Smith, growing up in agriculture taught him a lot, which is why he found it important to keep the farm in the family.
"You're taught so much through the risks you take as a farmer," Smith said. "You invest in animals, and they may not produce. You learn to juggle markets when prices plummet or when there's a drought or floods."
During the week, Smith spends his days either in Washington, D.C., or traveling to one of the 30 counties he represents. He says every day is different, whether that includes committee hearings, discussion and debate or even meeting with the president of the United States.
However, he says one of the most important things he does is advocate for the agricultural industry and those who are involved in it.
"The numbers are against us in D.C.," Smith said. "There are fewer than 75 rural congressional districts, and you need 218 votes to pass anything. I must constantly talk about the importance of our way of life. Four out of four people eat. Our farmers feed and clothe the world. You can't miss an opportunity to tell about our industry. Agriculture has changed my life and is the way of life for so many of the people I represent."
No matter where he is this week, one thing is for sure—he believes in FFA and what it does for young people.
"I think one thing many people don't understand is that FFA is not just about farming," Smith said. "It's about leadership. The skills you can develop in FFA will change your life and alter the course and direction of your life forever whether you live in a big city or on a family farm."
—By Alexa Hunziker