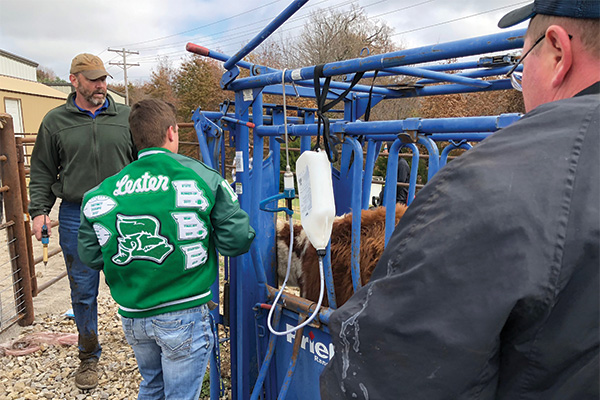 What started as a search for firsthand experiences with livestock for students of the Mount Vernon agricultural education program ended in a 10-month building project, now known as the animal science lab. Built for students by students, the lab is designed to help members of the Mount Vernon FFA Chapter become more familiar with animal agriculture.
Agricultural educators and FFA advisors Jay Shepherd and Steven Prewitt started crafting in December 2017 their idea of a hands-on space where students could learn about livestock.
"We had posts driven by a local fence builder who is an alumnus," Shepherd said. "My students built the rest of it."
Using a mobile welding trailer made the year before, students Ryan Raucher, Lane Hale and Corby Allen used their welding skills to build the lab.
Between working during their agricultural education classes and coming in on their own time, these students completed the project in 10 months.
"We worked on the lab pretty much every day," Rauchersaid. "Sometimes after school, sometimes on weekends. Just whenever we had time. We even came in during the summer."
The students said they gained just as much as they gave while volunteering their time.
"We learned a lot from it," Allen said. "We just saw what needed to be done, and we knew how to do it, so we just kind of took action and made it our priority during school."
Now, their hard work is paying off as they enjoy the finished project and students start using the lab for hands-on learning experiences.
"My favorite part is finally seeing it done and knowing that it was basically three kids that put it together," Raucher said.
Allen agreed and added that it is rewarding to know he played a part in building the structure.
The animal science lab is made up of sorting pens made for many different species. Rather than being a place to house student Supervised Agricultural Experiences, the space is dedicated to labs for learning more about livestock and animal agriculture. It will be used primarily by Animal Science and Ag Science 1 classes during livestock units.
"The main purpose is to get students' hands on live animals," Shepherd said. "To help them learn how to deal with live animals, whether it's injections, deworming or castration. We've even had someone come in to teach artificial insemination in cattle."
The point is to have a consistent place to bring livestock to the students instead of having to make trips to various farms.
"When our advisors get on a certain unit, they'll bring in someanimals, like cattle," Raucher said. "We've castrated cattle, vaccinated and ear tagged them. We checked a couple cows to see if they were pregnant. We've even brought in show cattle, clipped them and showed them in the lab."
Raucher said the lab isn't just for cattle, though. They have brought in other animals, like horses, as well.
"We've worked some cattle in the lab," Shepherd added. "We had a lab for horses where students saddled a horse. We've had some dairy cattle in to judge and had judging practice in the lab with goats and other animals."
This hands-on education is equally important for both students who come from a livestock background and those who do not.
"We have a lot of kids in our program that are close to the farm, but many times if they are doing something, like working cattle, they're the ones in the back pushing the cattle up," Shepherd said. "So, we're trying to get them some more direct experience."
In addition to those students familiar with the farm, Mount Vernon also has students who have never been around livestock. The lab serves as their opportunity to experience firsthand what they are learning about in class.
"The students really enjoy any sort of hands-on stuff in class," Shepherd said. "Because of the lab, they've gottento see a lot of things they otherwise wouldn't."
Shepherd acknowledged the fact that the lab was made possible only by the gracious support of the surrounding community.
"We sent out some letters to some key people we thought might be interested in supporting the project," Shepherd said. "We sent out about 16 letters, and we got enough responses to start building. We decided we would try to get the money as we went along."
Seeing the benefit of having a space dedicated to hands-on learning for their students, the surrounding community was supportive throughout the entire process. Between monetary contributions and building materials, nearly $12,000 in donations were made, Shepherd said.
"The support of the community was awesome," Raucher said. "We had organizations like Missouri Cattlemen's donate. We also had a lot of individuals that donated. Many individuals came together to make it happen, and I really think it's going to pay off in the long run."
Looking toward the future, the Mount Vernon agricultural education program plans to continue its use of the animal science lab while continually growing its potential for student contact with livestock.
"The plan is to get a roof over it and have it powered by solar power," Raucher said. "I think members of the community plan to help with that, too."
— Brandelyn Martin
Read More