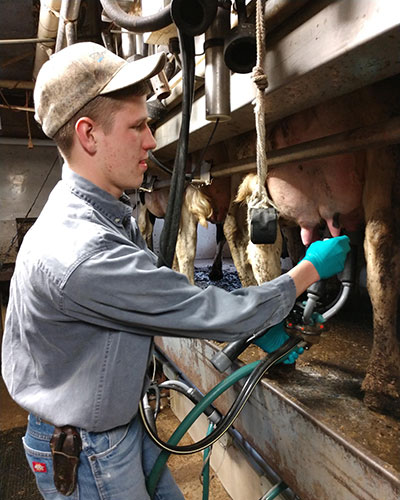 Concordia FFA member Austin Freund remembers when he was a youngster following his dad around their family dairy operation.
"My dad has taught me the management practices needed to start and run my own dairy operation," Austin says.
Austin began his dairy operation with two cows and two heifers. Growing his Supervised Agricultural Experience program helped him become a national finalist in the Dairy Production Entrepreneurship proficiency award area.
"Today, my wide array of responsibilities include removing manure from lots and spreading it on the fields where crops have been removed, moving cattle, vaccinating my cows, managing free stalls and harvesting hay," he explains.
Growing his project hasn't been easy. Austin says limited resources have made it challenging. The family operates a closed herd, choosing to not purchase animals outside the farm. To expand his project, Austin purchased some cows from his father and uncle. He's also kept 100 percent of his heifer calves.
"From 2014 through 2016, my operating profit margin was higher than in 2017," Austin explains. "Even though my herd numbers had increased, the milk prices were considerably lower, thus decreasing my profits. The increase required me to rent more acres for the production of feed for the additional cows, thus increasing my expenses while milk prices were already low."
An exchange of labor plan with his father and uncle helped Austin defray some of his expenses.
Among the greatest accomplishments for his SAE are improving heat detection in both the heifers and cows and implementing a clean environment for his cattle by using fresh sand in the farm's free stalls. He also implemented an intensive grazing system to help better utilize the farm's pastures.
"When I first started managing the pastures (with intensive grazing three years ago), I hoped it would prove beneficial for my heifers," Austin says. "I have noticed using intensive grazing the pastures grew more quickly, and the heifers are able to grow without being fed as much feed."
Read More