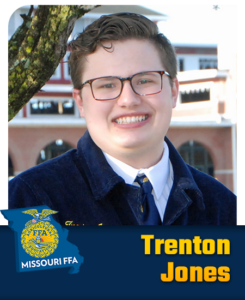 Growing up, I was very active in the Boy Scouts, eventually earning my Eagle Scout rank this year. The Boy Scouts have a few core values, such as our motto, "Be Prepared". Our motto was something that always stuck with me. Whether it was simply bringing a poncho to a football game when it is supposed to rain or making sure I have enough gas in my car to make a road trip, I always strive to "Be Prepared" for whatever may come my way. 
I think the Boy Scout motto is something we as FFA members can apply to our time spent in the blue jacket as well. In our ever-changing world, we are constantly being faced with many struggles and challenges in the agricultural industry. As FFA members, it is our duty to Be Prepared to educate our peers with the truth behind our industry we are all so passionate about. 
Personally, I don't come from an agricultural background. I did not live on a farm, show a steer at the county fair, or even own a pair of cowboy boots, but I knew how important it was for me as an FFA member to share the truths of the agricultural industry to those around me. My SAE consists of owning/operating a house plant shop in my hometown, and one of my main focuses is to share the background and science of the plant industry with those who otherwise, may not get to learn. 
FFA members, my challenge to you is this: Find your connection to agriculture. Whether that is something more traditional such as raising beef or having a row crop operation, or selling plants from other countries, Be Prepared. Prepared to share, prepared to learn, prepared to educate. Be prepared for whatever may come your way. 
Read More