Do You Walk With Confidence?
Learn the Ins and Outs of the Employment Skills LDE and how it can prepare you for your first job interview.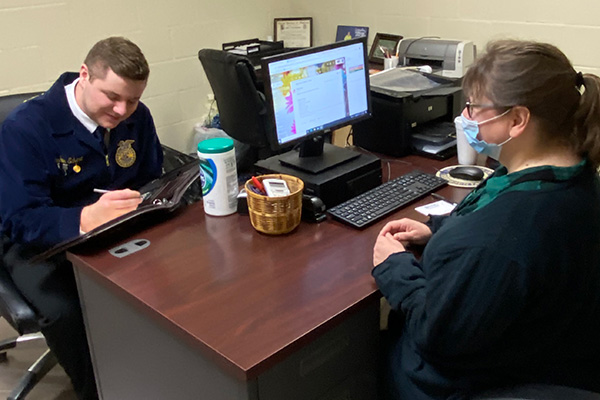 Should you shake hands when introducing yourself? Do you need to ask to be seated? How might you answer the prompt, "Tell me about yourself?" Many high schoolers, college students and even young adults ask these questions and more before nervously walking into their first job interview. In fact, most feel unprepared. The National FFA Organization created a Leadership Development Event (LDE) to combat this stress and give FFA members the tools needed to walk in with confidence.
"The Employment Skills contest is the perfect preparation for real world job interviews and placement," says Jessica Connelly, superintendent for the state Employment Skills LDE the past several years. "It's designed to walk students through an application, interview and selection process. It's one of the most practical professional development experiences available to students."
Brooke Kreatz, a Chillicothe agricultural education instructor and FFA advisor, agrees the LDE equips students for their first job interview experience.
"Employment Skills prepares students for the process of applying for a job," she says. "They have to be able to fill out a job application, prepare a cover letter and resume, as well as request and get a letter of recommendation in a timely manner. The overall mission is to produce a capable, contributing future employee through practicing these employment skills."
As a human resources professional, Connelly encourages FFA members to exercise these skills in preparation for the future.
"Students can never be too prepared for what awaits them after walking the halls of their high school," she says. "Whether it's college, junior college, tech school or the work force, this LDE helps every student practice for the future."
This preparation starts in high school through extracurricular activities like FFA, something Kreatz knows the impact of firsthand.
"Students who are involved in extracurricular activities are more confident and feel more comfortable when in front of future employers," Kreatz says. "Marketing yourself is an important skill to have. The process of applying for a job can be stressful. If you already have the skills needed to go through the process it can ease that stress. I know from my own experiences that competing in LDEs and CDEs gave me an upper hand when interviewing because I knew what to expect, and I was able to walk in my interview rooms with confidence."
In addition to confidence gained in extracurricular activities, employment skills are something all students benefit from learning.
"As part of the Agricultural Business Curriculum sponsored by FCS Financial, we are able to teach all students these skills in the classroom," Kreatz says. "I am a firm believer that all students need to learn employment skills and build confidence, and this curriculum does just that. Students can learn so much from each other and it is important that they get a chance to interview in front of their peers."
Connelly adds practice in and out of the classroom are critical in preparing for a future career.
"At some point, every student will experience the job interview and selection process," Connelly says. "I always find myself performing best in those environments if I practice before. This contest is the practice and feedback to help all students perform well themselves."
by Brandelyn Twellman