Build YOUR Confidence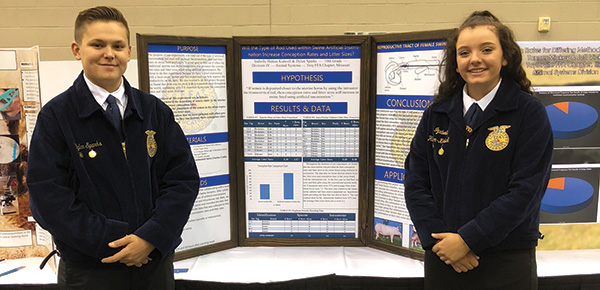 Walking into the National Agriscience Fair, Dylan Sparks looked at the rows upon rows of project presentations and didn't know how he would measure up. He and his partner, Bella Kidwell, are members of the Troy FFA Chapter. They agreed the National Agriscience Fair was something they will never forget.
Matt McCrory, an advisor of the Troy FFA Chapter, said the fair is broken into different segments.
"Students discover a problem, research it, develop a hypothesis and conduct the scientific experiment to test the hypothesis," he said. "They write a research paper displaying their research, data and results.  Students then make a display board portraying their research project and take part in a 10-minute interview with judges explaining their concepts, steps and analysis."
The Agriscience Fair allows students to further explore topics in science, technology, engineering and mathematics.
"They get to choose from a variety of category areas based upon their interests, including Environmental Services/Natural Resource Systems; Food Products and Processing Systems; Plant Systems; Power, Structural and Technical Systems; and Social Science," McCrory explained.
Sparks and Kidwell decided to explore the Animal Systems area.
"Dylan and I did a project about artificial insemination in swine," Kidwell said. "We looked at what type of rod would be the best to use. It was between a traditional spirette rod and an intrauterine rod. We tested on a litter of gilts and sows."
In addition to learning about swine, Sparks said he also developed leadership skills throughout his project.
"It helped build my confidence while speaking in front of people," he explained. "It helped build my writing skills as well."
Kidwell and Sparks won at the state level and went on to win the national competition in 2018. Sparks is moving onto nationals again this year. He attributes his chapter's consistent success to teamwork and collaboration.
Sparks said he remembers an older member reaching out to help them with their project.
"He read over our essay, listened to our speech and gave us tips," Sparks said. "We all just work together to refine everything. It's not just your project–it's almost the whole chapter's project."
Similarly, Gabriel Simmons and Allison Harris, members of the Tuscumbia FFA Chapter, believe their chapter's successes are due to the encouragement of others involved.
"I am blessed enough to be in a chapter filled with people who are both passionate about what they do and encouraging to those around them," Harris said. "The members in my chapter strive not to be perfect but instead to be the best they can be. This certainly makes an impact on every individual member of the chapter, school and community by pushing them to be the same way."
While the students attribute most of their success to those around them, Tuscumbia Advisor Nick Parks said his students are self-motivated as well.
"What makes our chapter successful is the time our students put into the project outside of school," he explained. "They put in countless hours both inside and outside of the classroom."
Invasive species was Simmons's topic of choice this year.
"I was investigating how well the public understood invasive species," he said. "I created a survey. Section 1 consisted of questions where subjects had to identify invasive flora and fauna, and non-invasive flora and fauna. They also had to classify these species as either invasive or non-invasive. In section 2, they had to answer questions related to the problems associated with invasive species."
Harris chose to do her project on preventing corrosion of mild steel.
"Acid media, which is used heavily in dairy industries, can cause severe damage of goods and structures," she explained. "I used beet root, grape seed, green tea, and Moringa oleifera extracts. These extracts were added to an acid solution, and each was tested at three different concentrations. The change in mass was calculated at the end of the experiment, and I found that each of the treatment groups was 100% effective at preventing corrosion."
Both members competed at the National Agriscience Fair this year. While they are excited about their successes thus far, they are also appreciative of the skills they have gained.
Parks said that while the main purpose of the fair is to encourage students to search for solutions to common issues in agriculture, it also allows for many personal growth opportunities.
"While learning about the uses of acid media, I learned how much of an impact it makes in various industries, the environment and the economy," Harris said. "However, I also learned to be persistent and work hard to accomplish my goals, no matter how difficult it may become."
Each student agreed that the Agriscience Fair has presented them with lessons and opportunities they didn't foresee. Whether it changed their future career path, helped them with interview skills or allowed them to explore a new area of agriculture, each student has taken away more than an award from the experience.
—By Brandelyn Martin