Dared To Be Diversified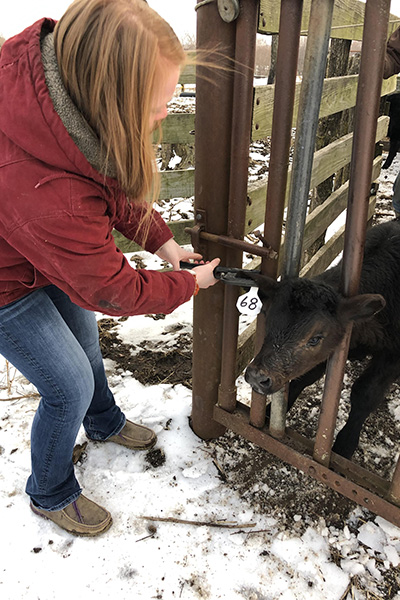 Diversifying her livestock enterprise sounded like a good plan. Yet, it was the greatest challenge Bucklin FFA member Amelia Liebhart faced with her supervised agricultural experience project.
"Raising and exhibiting Salers cattle along with my sisters and fellow family members was a given, but expanding into swine and goats was not," she explains.
Initially met with resistance, Liebhart says her family couldn't understand the interest she had in other species, especially given the success they had received in the cattle industry.
However, with a little help from her grandpa, Liebhart was able to persuade her parents into the expansion. The decision was one that helped the FFA member become a national winner in the diversified livestock proficiency award area last month at the National FFA Convention in Indianapolis, Indiana.
"Experiencing the success and satisfaction of my own SAE in diversified livestock production made me realize the value of the entire SAE process to the agricultural education program and the value of the experience to agriculture students," Liebhart says.
Liebhart's SAE includes raising registered Salers beef cattle, crossbred swine, Boer goats and working on her family's farm. Income she earns on the farm is used to purchase needed hay, feed, veterinary care, pasture and bull rent. She also invested in the production of seven acres of corn to help provide feed for her livestock project.
"Raising livestock and growing up in a farm environment has shaped me as an individual and exemplifies the FFA motto through my experiences," Liebhart says. "Learning the value of hard work, dedication, money management, goal-setting, planning, decision-making and even dealing with failure and loss (have been critical to my success). Through practical experience, I have built up a lifelong enterprise while learning life skills."
In the future, Liebhart hopes to become an agricultural education instructor and share her own experiences with her students, helping them learn essential skills and gain opportunities for success through their own SAE programs. She says her first-hand experiences will undoubtedly assist her in teaching future students while allowing her to continue serving others.
"Everything of value requires hard work and dedication, and this can come with some difficult decisions and lessons," she says. "Overall, my involvement in raising livestock has been positive and rewarding, and I plan to continue it throughout my life and with my own family."
—By Joann Pipkin