Bridging The Gap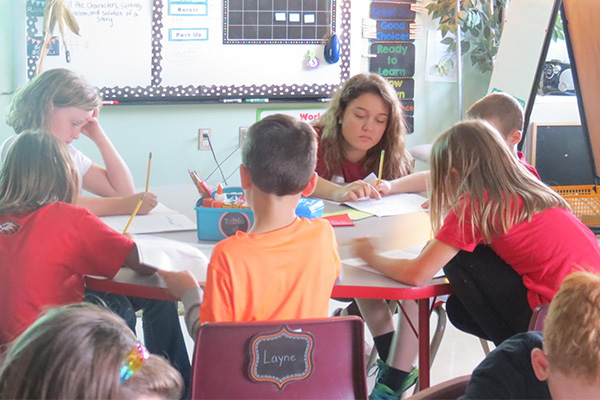 It's all about engaging young people in agriculture. National FFA proficiency award finalist Elizabeth Brooks says that alone was the most challenging aspect of her agricultural education supervised agriculture experience project.
The Ashland FFA member says her ag education SAE focuses on educating people about the various sectors of the industry. For the past two years, she's been an educator for the Agriculture Education on the Moveprogram through Missouri Farmers Care.
"I used this curriculum, in combination with my own lessons, to teach agriculture to 50 third grade students during a 10-week program," Brooks explains. "I also organized an agriculture literacy program for first grade students for which I developed a four-week curriculum based on four different agriculture story books to education 25 students about agriculture commodities."
In addition to teaching in the classroom, Brooks worked with the Ashland Learning Garden to educate students about vegetable production by helping develop lessons and activities. Brooks organized a middle school agriculture club for the Ashland FFA chapter and also led her local 4-H Clover Kids program. She also led a summer camp called Farmhouse for Fun for local day care children to learn about livestock and tour different farms in the area.
"My experience with Ag Education on the Moveinspired me to develop my own ag ed program," Brooks says. "As the coordinator for the agriculture literacy program, I selected four ag-related story books and created lessons and activities for each one. By the third year of my SAE program, my experiences had made me a confident, passionate teacher and inspired me to take charge of several other ag ed programs in my chapter."
Taking time to get to know her students is vital in ag education, Brooks says. She makes a point to learn about her students' abilities, interests and behaviors. "This helps me develop techniques for keeping my students engaged and overcoming that challenge," she says.
By working in her SAE, Brooks says she's recognized that agricultural education must start at an earlier age. Although she hasn't identified a specific age, she says teaching agriculture before high school will greatly improve agricultural involvement and success in the future.
"During my time as an educator, I have seen the desire that students of all ages have for learning, and that has inspired me to connect with them and create learning opportunities that will spark enthusiasm in the next generation," she says. "Teaching about agriculture and inspiring youth to stay interested in it has been my biggest accomplishment through my SAE program because I have done my part in preparing the next generation of agriculturalists."
—By Joann Pipkin