Small-Town, Big-Time Rewards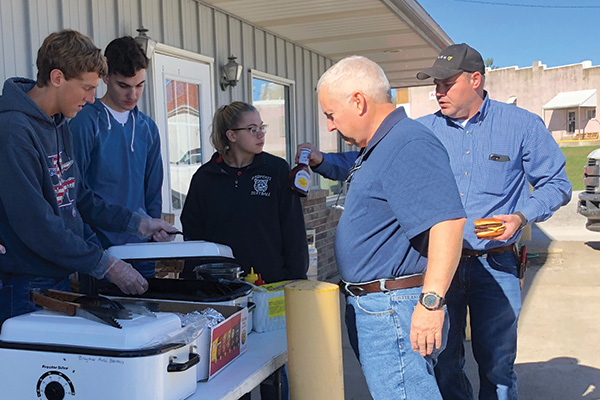 Small but mighty. These three words can be used to describe the state's Top Chapter, named at the 91st Missouri FFA Convention held earlier this year. Lead by 12chapterofficers and advisor Paige Brock, the Braymer FFA Chapter planned and hosted countless activities and events to grow leaders, build communities and strengthen agriculture. 
"Our chapter is one of the smaller chapters," said Dustin Davies, 2018-2019 chapter president. "We don't have a lot of members, but every one of our members works very hard at everything they do through the FFA."
The smaller nature of their chapter allows each member to participate and remain on the same page.
"It's a small chapter," said Keaton O'Dell, 2018-2019 chapter vice president. "We have 45 members in our chapter, and we all know each other. We all know each other's names. We talk to each other on a daily basis, and we get along great. We're very cohesive, and we work well together."
This hard work and cohesion paid off when Braymer was named Top Chapter in the state, a surprise to many of the chapter's members.
"The student that was on stage accepting the award, he actually thought that there was a mistake and that he wasn't actually supposed to be standing up there since they hadn't called our name yet," Davies said, laughing. "We were very shocked and very excited to win that award."
This recognition is backed by a year of hard work, starting with the chapter's Program of Activities (POA).
"At the beginning of the year, we decide what will be in the POA and what activities we are going to do," Davies said. "A lot of the activities are annual, so we like to keep them the same, but we are also always looking for new things and activities to do."
From there, the finer details are ironed out to ensure that the POA is organized and well-rounded. While all sections are addressed, members of the Braymer FFA Chapter like to focus a lot of their attention on building communities.
"I think we like to focus primarily on the building communities section," Davies said. "In everything we do, even if it is in growing leaders or strengthening agriculture, we are still bringing it back to our community and using the events to build our community."
O'Dell agreed and added, "We're very involved in our community. I'd say we are a big-hearted chapter."
From picking up trash to the Teal Pumpkin Project, members of the Braymer FFA Chapter are no strangers to serving others.
"During harvesting season, we will pack lunches and take them to our local co-op for farmers as they are unloading their grain," Davies said, "so, they can have food without having to worry about stopping and getting something."
O'Dell's favorite event is also community-focused.
"We help with Smoke in the Valley," he said. "It's our tractor pull here in Braymer. It gets the FFA name out there and shows we are supporting the community."
In addition to their full calendar and focus on service, the Braymer FFA Chapter's family atmosphere makes it unique.
"We are like a family," O'Dell said. "We're everything a family should be. We work together, and we work hard together."
Davies agreed and added that their chapter's members are especially close.
"Everybody always says that FFA is a family," he said. "But I feel like our chapter is a really, really close-knit family. If anyone needs any help with their SAE or a contest team, they just need to ask another member, and they are more than willing to help."
—By Brandelyn Martin