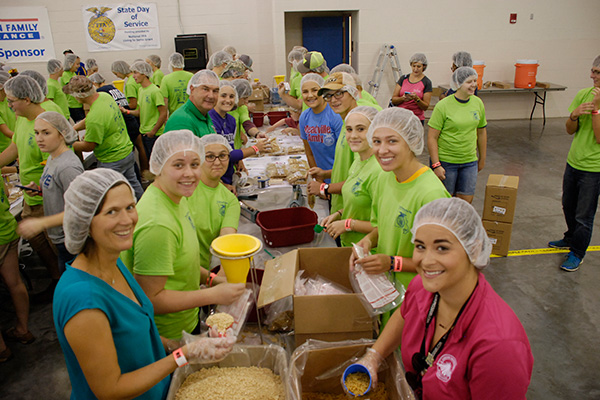 MO FFA Needs You!
Our friends at Missouri Farmers Care have been diligent in their efforts to ensure the success of the 2019 Missouri FFA Food Insecurity Day and the Drive to Feed Kids at the Missouri State Fair.
Growing up in a rural community, I would have never imagined food insecurity would be a challenge faced by those around me. Yet, the numbers are staggering. One in five children in Missouri are food insecure and in rural areas that number rises to one in three. Mother Teresa once said, "If you can't feed a hundred people, then feed just one." As Missouri FFA members we have the opportunity to help diminish an issue that is faced by many within our state.
On Tuesday, Aug. 13, at the Missouri State Fairgrounds over 750 Missouri FFA members will work to pack more than 100,000 meals to combat food insecurity across our state. We will work together to ensure that children across the state spend their time focusing on being a kid rather than worrying about when their next meal will be. From now until then, we are tasked with raising funds in support of Feeding Missouri, the coalition of six regional food banks in our state.
Now we need your help! As a leader in your community, you have the opportunity to help Missouri Farmers Care by magnifying awareness of childhood food insecurity in our state. If we all help feed just one, the possibilities of impact are endless. By working together, we can minimize the number of hungry children in our own communities!
How can you help:
Ask your neighbors, friends and local businesses to donate to the cause.Donations can be made online at:http://mofarmerscare.com/drive/or by texting "Drive2" to 44321.
Spread the word about the Drive to Feed Kids through social media.You can do this by sharing posts from Missouri Farmers Care or utilizing the attached social media assets on your chapter's page. On July 30, add the Drive to Feed Kids Facebook profile filter to your profile picture.
Pre-Event Press Release: Chapters participating at the State FFA Food Insecurity Service Day can complete the attached template press release and share it with their local newspapers prior to Aug. 8.Show your community the great projects your chapter is helping with.
If we all do our part together we can bridge the gap of food insecurity. Thanks for all of your help! We couldn't do this without you.
— ByJessica Janorschke, Missouri FFA State Vice President