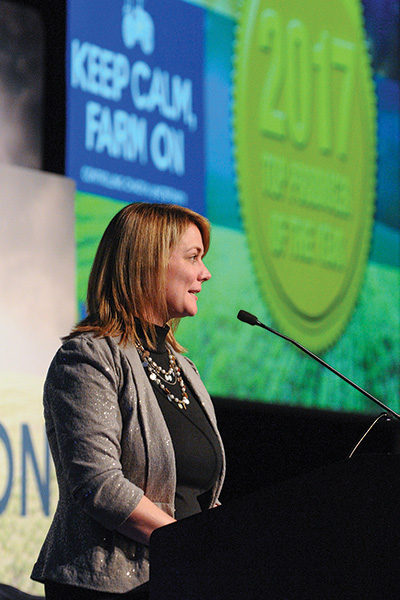 Everyday Advocates
Telling agriculture's story is no easy task, but thanks to their time in the blue jacket, a number of Farm Journal's staff are better equipped to get the job done.
Sara Schafer, editor of Top Producer, was a member of the Jamestown FFA chapter and served as Area 6 state vice president from 2003 to 2004. Her supervised agricultural experience project included raising, butchering, and selling broiler chickens, as well as straw production.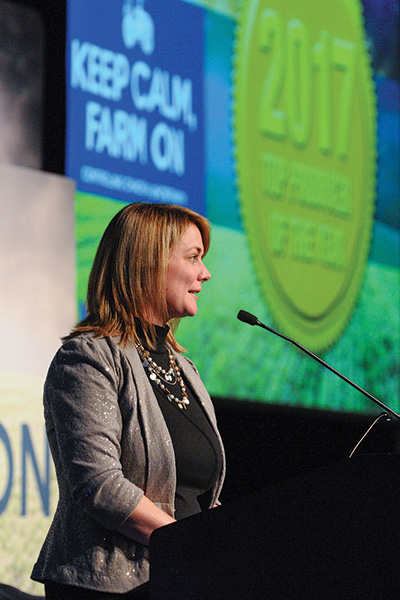 In the end, she says everything she does helps bring information to farmers, which is why she enjoys what she does so much.
"Why my role is really interesting is I have a really defined audience," Schafer says. "So, the information I put out is to help farmers be successful today and in the future. They need to gain a competitive edge and learn the business side of farm management so they can grow into the future and be sustainable. Helping them to do this is what creates an industry that will continue to be successful."
Susan Rhode, director of marketing at Farm Journal, echoes this desire. Rhode was a member of the Stet FFA chapter, served as Missouri State FFA Secretary from 1989 to 1990, and was on a state winning soils-judging team.
"I love knowing that what we do benefits the farmer every day," Rhode says. "I remember growing up in a farm family, you had stacks of magazines everywhere. Farm Journal was always on our coffee table. It was in the stack of magazines next to my dad's recliner. He made it a point to make it a part of his day to help his career. I think that speaks for itself."
Farm Journal not only encompasses the 141-year-old flagship magazine Farm Journal, but also includes a multitude of other outlets, including print, broadcast, events, market research, custom content, and mobile and digital platforms.
All three professionals acknowledged that part of what brought them to agricultural journalism were their experiences in FFA.
"Truthfully, I didn't know ag journalism existed until I went to my first state FFA convention and stumbled onto the ag journalism booth from Mizzou," Schafer says. "Then, it hit me. It was a perfect combination of my love for farming and my love for writing. FFA gave me exposure to the field that I wouldn't have had otherwise. I became familiar with the publications and met people in the industry."
Through FFA, one of these connections was Joann Pipkin, editor for Missouri FFA Today.
"I met Joann at Missouri Agribusiness Academy and reached out. Before long, she was assigning me stories," Schafer says. "I wrote for Missouri FFA Today for several years, and that gave me a great opportunity to write for a state publication in upper high school and throughout college."
Along with learning how to network and building her confidence in writing, Schafer says FFA prepared her for her career through Career Development Events and Leadership Development Events.
"I learned a lot of agronomic and business skills in my ag classes that I can lean back on," Schafer says. "Being on the agronomy team helps me now when writing about plant health. Communication skills go so far beyond public speaking. Learning how to communicate your points can help anyone, but really helps if you pick journalism."
Sonja Begemann, Farm Journal's seeds and production editor, says looking back, her early involvement in FFA foreshadowed where her career would end up, and offered a bit of irony.
"My least favorite contest team was the agronomy team, and today everything I do is agronomy related," Begemann says. "On top of that, my first office was reporter, and even throughout school I continued to write for our newspaper. So, there was some foreshadowing. I remember calling my advisor after my first job selling seed out of college. I said, 'Hey, do you remember how much I hated agronomy? Well that's what I do now.'"
Begemann was a member of the Fair Play FFA chapter, served as area 10 state vice president from 2010 to 2011 and won first place individual at the national level in the Dairy Foods Career Development Event.
This love of competition is one thing that has carried her through her career, and after coming in second in districts, she said it taught her that she would only be as successful as she set herself up to be.
"I'm not competitive with coworkers, but with others in the industry," Begemann says. "I want to cover things better, more in depth and be someone farmers can trust. It's up to you what you want to do with anything in your life, whether it's a silly contest or your career."
Just as Begemann strives to be someone farmers can trust, Rhode has had opportunities within and outside of Farm Journal to be a trustworthy source for consumers.
When her first son Isaac was born, Rhode took a 14-year-hiatus from her career in the agricultural industry. During this time, she took on a new position at an engineering firm in Kansas City, Missouri.
"The biggest thing I learned was working with people who didn't grow up on a farm and weren't just like me," Rhode says. "I became the advocate in the building. So, when anything happened in ag, people came to me. It totally changed my perspective. When we work in ag, we talk about being an advocate, but when I jumped out of ag for my career, I had never been in that position before. I was a trusted source of information in people's eyes about agriculture."
According to Rhode, you can tell agriculture's story no matter where you are if you gain the skills and knowledge to do so, and FFA is a great place to start.
—By Alexa Nordwald Hunziker