Greenville FFA Lends a Hand
The past 18 months, members of the newly chartered Greenville FFA Chapter have built not only one, but two small homes to be placed in homeless communities in the St. Louis area. Greenville FFA Advisor Scott Payne got the idea to build these homes from a fellow Army Reserve Chaplain who has a servant heart for homeless individuals, specifically homeless veterans.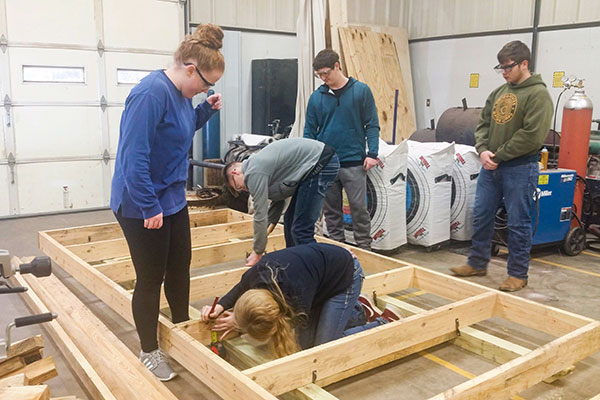 "When I told my FFA kids about [the homeless communities], they immediately wanted to do something about it," Payne said. "So, we drew up some plans and decided we would build a small house."
The 6-by-12-foot houses are only large enough to hold a set of bunk beds. Even though the houses don't have plumbing or electricity, the facilities help make living much more bearable for homeless individuals.
"They [homeless individuals] were living under tarps and thrown over branches," Payne explained.
Payne, who has a background in industrial education, encouraged his students to begin soliciting community businesses for material donations such as lumber, metal, and linoleum. With the support of local businesses, both homes were fully funded. The first home the chapter built was delivered to a man and his wife living in the homeless community in February 2018. The second was delivered in April of this year.
"The students bought into the project immediately, and they would all work hard during the assigned class periods," Payne said. "They would show up after school. They would show up during free time. They just wanted to work on it and see it come to pass."
Building the houses was used as a teaching tool in a building construction course. While building, the students had the opportunity to learn about planning, designing, estimating materials and the tenants of construction for the small houses.
Aesthetically, the homes are very pretty inside even though they are only made to house only two people. The walls and ceilings are made from tongue-and-groove pine lumber and have two windows for ventilation. To put a personal touch on the houses, Payne left a spot on the wall for each student to sign his or her first name around the words "From Your Friends at Greenville FFA." The students in art courses also used their artistic ability to paint patriotic paintings to decorate the interior walls of the home.
The homes were delivered to a homeless community in the St. Louis area inhabited mostly by veterans. While Payne is not certain the recipients of the first small home were veterans, he is certain the person who received the home this year is a veteran.
Payne is encouraged by the commitment the Greenville FFA members have made to building the homes. While they are learning crucial building skills, they are also helping someone stay warm at night.
"On a personal note, it was great to watch the kids get excited about it," Payne said. "Not just because they were building this, but because they knew they were helping somebody. When that lightbulb came on, I could just see it in my students' faces. That's what I appreciated the most out of the build itself."
After being chartered in 2014, the Greenville FFA Chapter has become home to nearly 50 students and just graduated its first set of four-year members in 2018. The number of active freshmen joining each year encouraged Payne. With a little help from their supportive community, the fast-growing chapter is living to serve, one tiny home at a time.
—by Julie Choate