More Than Mowing Grass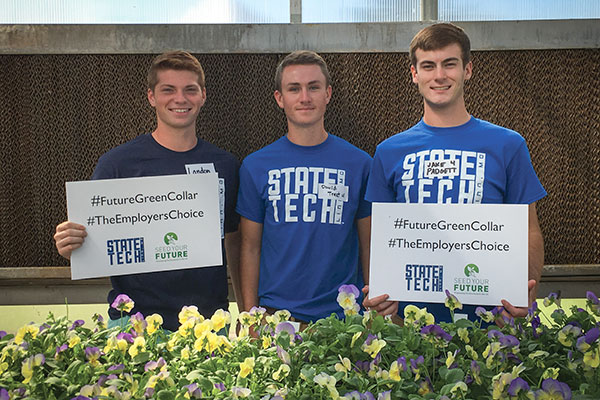 Students in the agriculture program at State Technical College of Missouri are landing internships and full-time jobs at many high-profile companies in the turf and landscape fields. Just this year, State Tech had students on the athletic fields during the U.S. Open, World Series, Super Bowl and 100th PGA Championship. Their students are developing practical skills through multiple hands-on opportunities to prepare them for their careers.
Ryan Klatt, agriculture department chair and instructor, and Nick Rackers, instructor, make up the two-man teaching staff within agriculture at State Tech. Students pursing the commercial turf and grounds management degree take courses for two years with a required six-month internship between the first and second year.
"They stay on internship the whole time from the first week in March until August of the next [school] year when school starts back up," Klatt said. "The reason we do that is because that's when most landscape companies, golf courses, ball fields–they're all looking for help. The students get out there, and they are able to see an extra season."
The opportunity to work an extra season, as opposed to just the summer, provides students an opportunity to get more out of their internship experience by seeing how companies operate in two peak seasons of the year, spring and summer.
IN-DEPTH COURSE WORK
While the students are in classes, they are maintaining the landscape of the State Tech campus. Students are responsible for mowing, designing the landscaping, growing and planting flowers and even pruning trees and shrubs. Rackers has focused on creating a diverse, botanical garden feel over the campus by labeling each plant with its scientific name.
"I can't teach tree and shrub identification in the middle of Osage County if I don't have a concentration of trees and shrubs to go look at," Rackers said. "I'm trying to create diversity on campus."
One of the first courses students will take in the agriculture program is equipment operations, where they learn how to run a variety of mowers, mini excavators, skid loaders and multiple other pieces of equipment.
"We would rather them learn to do it here, so they know how to run that piece of equipment when they get on their internship–before we send them out in the field," Klatt said. "The employers or the people who hire them really like that because when they are out [on internship], they are ready to hit the ground running when they get there."
SUPERIOR INTERNSHIPS
Students are receiving internships with landscape companies, golf courses and on athletic fields. Klatt and Rackers are able to direct students toward a company, which fits their interests. They use industry connections to guide students in the right direction, but they also encourage students to become student members of certain associations, that often provide job boards where applications for some of the high-profile internships can be found.
"Out in our shop, we have what's called our Wall of Fame," Klatt said. "Any student who has worked for a professional team or at a high-profile golf course gets a flag on the wall. So that's kind of our professional claim to fame."
Over the past several years, students have worked for a variety of teams, including the Kansas City Royals, San Diego Padres, St. Louis Cardinals, Houston Astros, Kansas City Chiefs, Philadelphia Phillies and Boston Red Sox among others. Additionally, students have worked at the PGA Championship and the U.S. Open. In 2018 alone, State Tech had students representing the program during the U.S. Open, World Series and Super Bowl.
OUTSIDE OPPORTUNITIES
In addition to the hands-on experience during internships and through coursework, State Tech students in agriculture can be members of and participate in PAS (Professional Agricultural Student Organization).
"It [PAS] is kind of like FFA, but for college students," Rackers said. "They have professional development type contests called CPAs. There's floriculture, landscape, turf grass, dairy and equine, just like FFA has their CDEs. But there's also a professional career building component."
The professional career-building component of PAS provides students with the opportunity to expand their professional development skills through a practical application. This past year, State Tech brought home multiple awards from the state conference.
Additionally, students who are landscape-focused can attend the trade show at the Western Nursery and Landscape Association (WNLA). Currently, two State Tech students have been nominated to sit on the WNLA advisory board for the next two years.
MORE THAN MOWING GRASS
Klatt and Rackers are helping students develop the skills and resume necessary to be successful in the turf and landscape fields. However, both said it is a lot more than just learning how to mow grass.
"A lot of people come in and see all of our equipment sitting in our shop and they think, 'I can go to school to learn how to mow grass'," Klatt said. "It's a lot more than just mowing grass by the time you get the fertility and the pest problems and how to manage all those things. There's a lot more to it than just mowing."
For more information about the State Tech Commercial Turf and Grounds Management program, please visit www.statetechmo.edu or follow them on Facebook @statetechctg.
—by Julie Choate