Farm Boy Leadership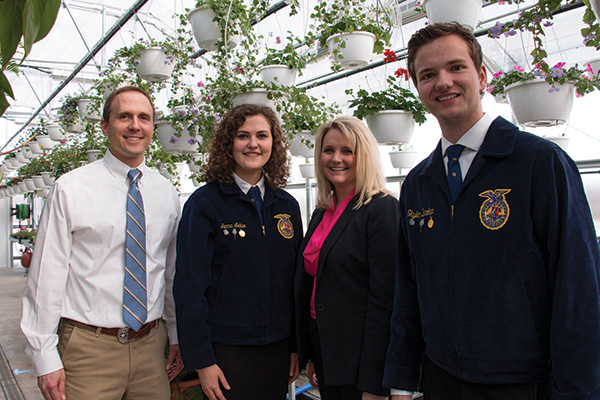 Missouri Deputy Director of Agriculture Garrett Hawkins is a small-town farm boy rooted in FFA.
PastMissouri FFA member Garrett Hawkins is a small-town Missouri boy who likes to run, hunt and work on the farm. Sound familiar?
One distinction you'll find is that this farm boy also works to protect Missouri's nearly 100,000 farms through his position as deputy director of the Missouri Department of Agriculture.
As deputy director, Hawkins works with the director of agriculture, Chris Chinn, to oversee daily operations for MDA by protecting and promoting agriculture and serving farmers, ranchers, agribusinesses and consumers.
"No two days are alike when you serve in a leadership role in MDA," Hawkins says. "In any given day we are juggling multiple issues ranging from fuel quality to international trade."
Although he enjoys his work, Hawkins admits some parts of the job can be challenging.
Striking a balance between the state's many needs is one challenge he encounters often. Conflicts arise from differing opinions, even from those within the agriculture industry. He and his team overcome this through listening to all opinions and studying laws and regulations.
"I always like to say that when we make a decision, we have weighed all options and done everything we can to make an informed decision," Hawkins says.
This ability to work with people and handle challenges began with leadership positions he took on in high school, one of which was becoming chapter president of his local FFA chapter.
"Serving in leadership roles helped me build my character and become more skilled at bringing people together for a common purpose," Hawkins says. "I owe FFA a lot for showing me leadership and communication and giving me the confidence to pursue leadership opportunities."
One of the leadership opportunities he was empowered to pursue was becoming a Missouri FFA State Officer in 1998. His role as first vice president allowed him to further develop his public speaking and interpersonal skills, but most importantly, it gave him a taste of what he could help others accomplish by stepping up as a leader.
"In my parents' house in a closet I still have letters I received from FFA members throughout my year of service; being able to encourage them left an imprint on me," Hawkins says. "I'm not saying this to pat myself on the back; it's just so neat to see the impact students can have when they step into leadership roles in FFA. You can't underestimate the impact that one FFA member can have on others when you show them you care. Every FFA member is in a position to lift someone up. You don't have to have a title by your name."
His thirst for leadership continued into college where he became a student ambassador and later interned for Missouri Farm Bureau.
That one internship paid off because in the fall of 2002, he was brought on full time with Missouri Farm Bureau.
"Our members will say that they helped raise me because when I joined the team, I was 22 and they saw me grow through the years in my career and personal life," Hawkins says. "I learned so much in my 14 years on staff and truly honed my passion for agriculture. I loved working on issues that affect farmers, ranchers and rural communities."
Although Hawkins found his passion while in school, when he began college, his goal was to become a high school ag teacher. However, he soon realized his skill set was better suited elsewhere. In 2002, he graduated from Missouri State University with a degree in agricultural business.
This degree change didn't stop him from being involved in the organization he loved. Hawkins has been deeply involved with the Missouri HYPE and HYMAX academies through giving workshops to FFA members
"I love working with high school students and helping them realize the importance of advocacy and understand issues that affect their families and communities," Hawkins says. "I want to help build their knowledge and confidence, so they can join the conversation."
This passion for Missouri ag policy was brought even closer to home when Hawkins, his wife Jennifer Hawkins and his children Adelyn, Colton and Tate, moved home to Hawkins' family farm in Appleton City, Missouri, two years ago.
"Now that we're actually living and working on the farm, that's important to me," Hawkins says. "I like working on the farm when I'm home and spending time with my wife and kids."
He hopes to instill a love for working on the farm in his children, just like he and his wife had on their individual family farms.
"My passion for ag has been lifelong," Hawkins says. "All of my extended family farms for a living. That lifelong passion is there because we've lived and breathed it every day."
His ultimate hope is that those in agricultural leadership roles today can continue to pave the way for the next generation.
"We often talk about the challenges in our industry but there is tremendous opportunity ahead," Hawkins says. "Our neighbors need us. Our communities need us. I'm always optimistic about the future of agriculture and am excited to know we have a great crop of enthusiastic, skilled young people to push this industry forward."
–by Alexa Nordwald