Research Worth Rewards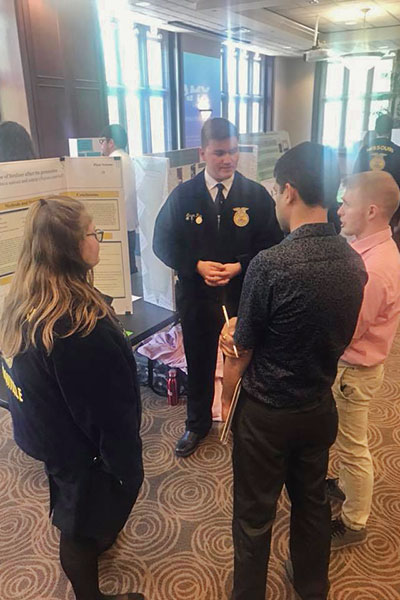 This year, nine Missouri FFA members will be recognized Oct. 24-27 as finalists in the Agriscience Fair at the National FFA Convention and Expo in Indianapolis, Indiana. The National FFA Agriscience Fair recognizes student researchers studying the application of agricultural scientific principles and emerging technologies in agricultural enterprises.
Here's an inside look at the projects from two of this year's finalists.
Daryin Sharp – Bolivar FFA
Daryin Sharp, is a finalist in Animal Systems, Division 5, of the National FFA Agriscience Fair. Studying the effect of growth implants on nursing beef calves, Daryin aimed to determine if the use of growth hormone implants were more profitable in getting calves to a target market weight compared to not using growth implants.
Daryin's experiment compared the use of Ralgro and Elanco implants. His results showed calves implanted with Ralgro will reach a target weight in a more timely manner. Results were shared with area producers and veterinarians.
"Producers and the industry will benefit from weaning calves that come out of the cow-calf operations at a higher weight and will have fewer days on feed in the feedlots by reaching a slaughter weight more rapidly," he explained in his experiment conclusion. "This information will allow the U.S. to continue to be the world's largest producer of beef because we are implementing practices the allow beef producers to remain profitable."
Isaiah Massey – Troy
Finding more ways to effectively and efficiently grow food and meet the needs of the growing population is a challenge. In preparing for his experiment on biochar emissions, Isaiah Massey first pondered the most effective soil remedy that could minimize the amount of carbon emissions released into the atmosphere.
During his experiment, he took four different types of plants: tomato, bell pepper, marigold and dusty miller. Using his FFA chapter's greenhouse, Isaiah filled four, four-inch pots with different soil types consisting of biochar, garden soil and promix.
In the end, Isaiah discovered that the plants potted in biochar soil released 400 to 600 parts per million less carbon emissions compared to the prolix and the garden soil that emitted a substantial amount of carbon dioxide.
"Farmers and garden growers can become enlightened about the benefits of biochar as a carbon capture," Isaiah explained in his conclusion. "Through the use of biochar, farmers can be able to not only reduce their carbon footprint, but they can increase their yields because of the amount of carbon the soil captures beneath the ground which then is used by the crops to concentrate their growth rates and can increase their yields."