Missouri and Kansas FFA Chapters Donate Over 4,400 Items in Western Farm Show Food Drive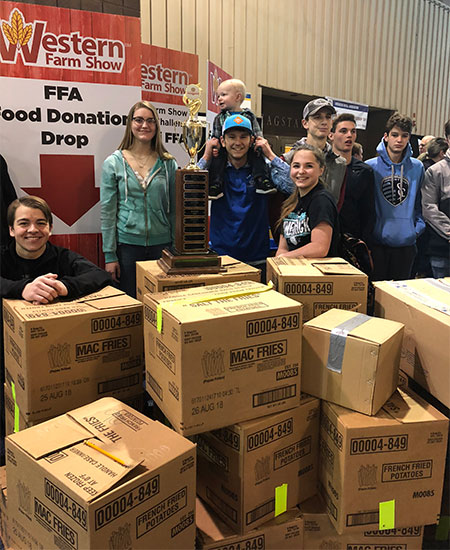 FFA students from Missouri and Kansas collected an impressive 4,457 food items for an annual food drive at the recent Western Farm Show.
The food cans and other non-perishable items have been donated to Harvester's – The Community Food Network, a regional food bank serving a 26-county area of northwestern Missouri and northeastern Kansas. The FFA donation totaled 2,334 pounds, which Harvesters says will provide 1,945 meals.
Each year, participating bi-state FFA chapters collect food items in their local communities and deliver them to the Western Farm Show, which is held at the American Royal the last weekend in February. For the 2018 food drive, 14 Missouri chapters delivered 3,613 items and six Kansas chapters accounted for 844 items.
"Harvesters is grateful to the Western Farm Show for its commitment to fighting hunger in our region," said Logan Heley, Harvesters Food and Fund Drive Manager. "During the past seven years, the Western Farm Show has donated more than 31,000 pounds of food which have provided more than 25,000 meals."
Ken Dean, Western Farm Show manager, said participating students not only support an important cause, but also have the opportunity at the show to expand their agricultural knowledge and learn about ag industry career opportunities. "Our show usually coincides with National FFA Week, which embraces the FFA and the important impact it has on its members," Dean noted. "These Missouri and Kansas FFA students can be very proud of the dedication they have shown to supporting those in need."
Produced by the Western Equipment Dealers Association, the Western Farm Show also features the latest farming and ranching equipment, livestock demonstrations, cooking shows and a Health and Safety Roundup, as well as other attractions for farming and ranching families.