RISE: 90th Missouri FFA Convention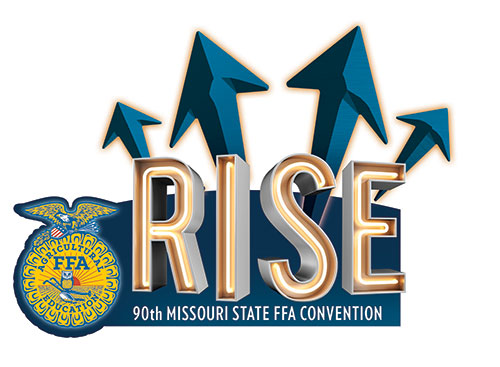 From special guest speakers to leadership workshops to the career show and career development event competition, FFA members from across the state will meet in Columbia, April 19-20 for the 90th Missouri FFA Convention.
Never give up. It's a common phrase we often take for granted. But motivational speaker and Missouri native Carey Portell lives it every day. As she headlines this year's state FFA Convention, Portell will inspire FFA members across the state to push their limits and, most importantly, never give up.
After Portell and her children were involved in a fatal drunk driving collision, she was left with partial disabilities, even after a four-year recovery. Connecting with agriculture and assisting on her family's cattle operation has given Portell hope. She claims farm work as her physical and mental therapy.
Portell travels nationwide to share her story. Additionally, Portell shares how farming has given her a focus and a feeling of life again. She enlightens listeners with her sense of perseverance and persistence.
Themed "Rise," this year's state convention also features award presentations, career development events, workshops and the ever-popular FFA Career Show.
Missouri also welcomes National FFA Western Region Vice President Bryce Cluff of Queen Creek, Arizona, to the convention. Cluff credits the blue jacket as the foundation of his core values and beliefs.
"I often have seen my service-driven attitude come out in my everyday life," Cluff said.
Hailing from an urban background, Cluff worried about creating a successful supervised agricultural experience program when he entered high school. On a whim, Cluff purchased a male Pekin duck from his local feed store. Quickly, he found passion and diversified his operation into a backyard full of poultry in every variety.
"I developed my business skills and learned how I could challenge myself to become a better agriculturist," Cluff said.
"These skills and experiences have since translated into my life and have shaped me to be a successful student and employee."
Cluff's experiences in the National FFA Organization have inspired him to become an agriculture educator and FFA advisor in rural or Native American chapters. Throughout his year of service as a National FFA Officer, Cluff says he hopes to grow alongside FFA members from a wide variety of backgrounds.
In addition to these guest speakers, the 90th Annual Missouri FFA Convention will feature leadership workshops for members. The FFA Career Show also gives students and guests the chance to learn about agricultural businesses, organizations, colleges and universities and more. Additionally, Missouri FFA will recognize the State Star Farmer, State Star in Agribusiness and State Star in Placement as well as present more than 750 State FFA Degrees to deserving members statewide. More than 8,000 people are expected to be in Columbia at the University of Missouri Hearnes Center for the state's largest FFA event.