Past State FFA Officer Reunion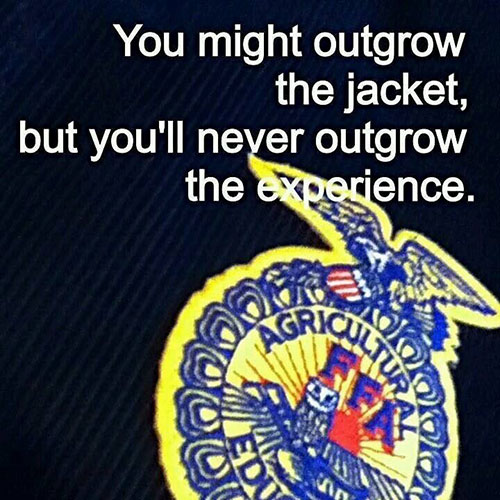 Plans are well underway for the 90th Annual Missouri State FFA Convention, which will be held April 19 – 20, 2018 in Columbia, Mo.  As Missouri FFA celebrates this milestone of 90 years of making a positive difference in the lives of students, we are also excited to announce a special event for Past State FFA Officer Teams.  In the past, we have invited past officer teams to join us at State FFA Convention on their 5, 10, and 20 year reunions.  However, as State Staff, we have decided to focus this year on a larger gathering of past officers to help celebrate 90 years of Missouri FFA and to help you re-connect with your State Officer friends.
On Friday, April 20th, 2018 we will be hosting a Past State FFA Officer Reunion at the Columns Club, located within the east tower of Memorial Stadium on the University of Missouri Campus.  We have reserved this space and will kick-off the event at 3:00 p.m. with hors d'oeuvres and will have a short program at 4:30 p.m. to update you on Missouri FFA and the Missouri FFA Leadership Fund.  We would then invite you to join us at 5:30 p.m. at the Hearnes Center for the 4th Session of the 90th Missouri State FFA Convention.  Our hope is that you will be able to re-kindle old friendships and get a glimpse of how Missouri FFA has continued to expand to better serve our students and the agriculture industry. Additional/optional activities on April 20th that you may wish to participate in include:
FFA Career Show at the Hearnes Center Field House which runs from 9:00 a.m. to 3:00 p.m.
State FFA Officer & Parents gathering at 11:00 a.m. on the Hearnes Center Floor
Serving as a judge for the FFA Public Speaking competitions (contact Steven Rogers directly if you have an interest in this opportunity)
In addition to hosting this special event, we would also like to help re-connect you with each other and Missouri FFA.  Please take a couple of minutes to follow this link below where you will be asked to provide your contact information and RSVP for this event.  Not only will this help us with planning for your attendance, but will allow us to have a better database for contacting you in the future.
Please note, we are trying hard to reach as many past officers via email, however, our list of contact information is not complete.  If you have contact with your fellow past state officers, please share this information with them.
I hope you will be able to join us as we celebrate 90 years of Missouri FFA.
Sincerely,
Steven Rogers
District Supervisor
Agricultural Education, Office of College and Career Readiness
Missouri Department of Elementary and Secondary Education
417-241-1302