Celebrating FFA Week
FFA members across the state celebrated National FFA Week, Feb. 17-24. These state representatives and senators took time out of their schedules to join us.
Missouri FFA says "thank you" to all state legislators who support agriculture and FFA.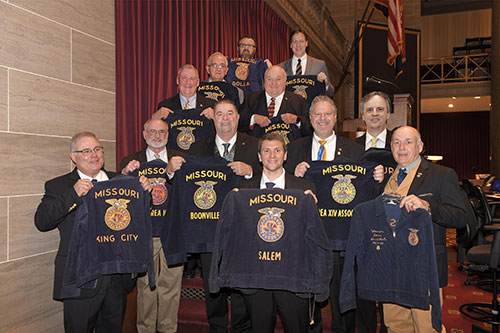 Pictured with their FFA jackets are:
Front row: Rep. Rusty Black, Chillicothe; Rep. Jeff Pogue, Salem; and Rep. Warren Love, Osceola.
Second row: Sen. Brian Munzlinger, Lewis County; Rep. Rick Francis, Perryville; Rep. Tom Hurst, Meta; and Rep. Jay Eggleston, Maysville.
Third row: Rep. Nate Walker, Kirksville; and Rep. Don Rone, Portageville.
Fourth row: Rep. Herman Morse, Dexter.
Fifth row: Rep. Bryan Spencer, Wentzville; and Rep. Allen Andrews, Grant City.